Cyber Crime – Fraudulent scams expected to rocket
Overnight, the consequences of a cyber breach and the risk associated with the loss of sensitive data will become far more wide
Invest in cyber security -Take up cyber insurance-Understand the risks
Fraudulent scams expected to rocket in 2018
Certificates  
|

 Policy Documents  

|

 Claims  

|

 Accounts 

|

 Important Contacts

 |

 And More…

We will provide you with your own logon details and a simple userguide
xxxxxxxxxxxxx
xxxxxxxxx
Cyber liability insurance covers the time and money you have to spend dealing with a cyber-attack. It also covers the costs of putting your business back together following a hack or data breach.
Included in this is cover for cyber extortion, where a cybercriminal cripples your business with 'ransomware' and demands payment to release your systems or website. Your insurance pays the ransom and brings in a specialist consultant to manage the situation for you.
Specifically, cyber liability covers:
The costs of investigating a cyber-attack
The costs of repairing, restoring and replacing your website, networks and data
Your lost income if a cyber-attack stops you trading
Your legal fees involved in disclosing a breach to the ICO
The costs of telling your customers
Your legal fees and compensation costs if you're sued for losing individuals' private data
The PR costs of managing your reputation and dealing with the fallout
Without cyber insurance, these are all things your business will have to pay for. Insurers call these direct losses 'first-party' costs. That's actually a good thing because, unlike professional indemnity insurance, cyber liability insurance policies don't depend on your customers' losses ('third-party' costs) for your cover to kick in.
xxxxxxxxxxxxx
That depends, to some extent, on how much IT infrastructure you have. More hardware means more to repair or replace. More software means more data to restore.
You need to take into account the way you do business. Can you still trade without a website or access to other systems? Can you survive without email? Do you take payments online? Do you hold particularly sensitive customer data or images? What will be the consequences for both you and your customers if you're hacked or held to ransom?
And don't forget the legal costs. Informing regulators and customers you've been hacked costs as much as a solicitor charges you – and we all know how cheap they are.
Whatever conclusion you come to, you can guarantee a cyber-attack will cost you money. And because exactly how much money is very difficult to quantify (because every attack is different), you're well advised to go for as much as you can possibly afford.
xxxxx
xxxxx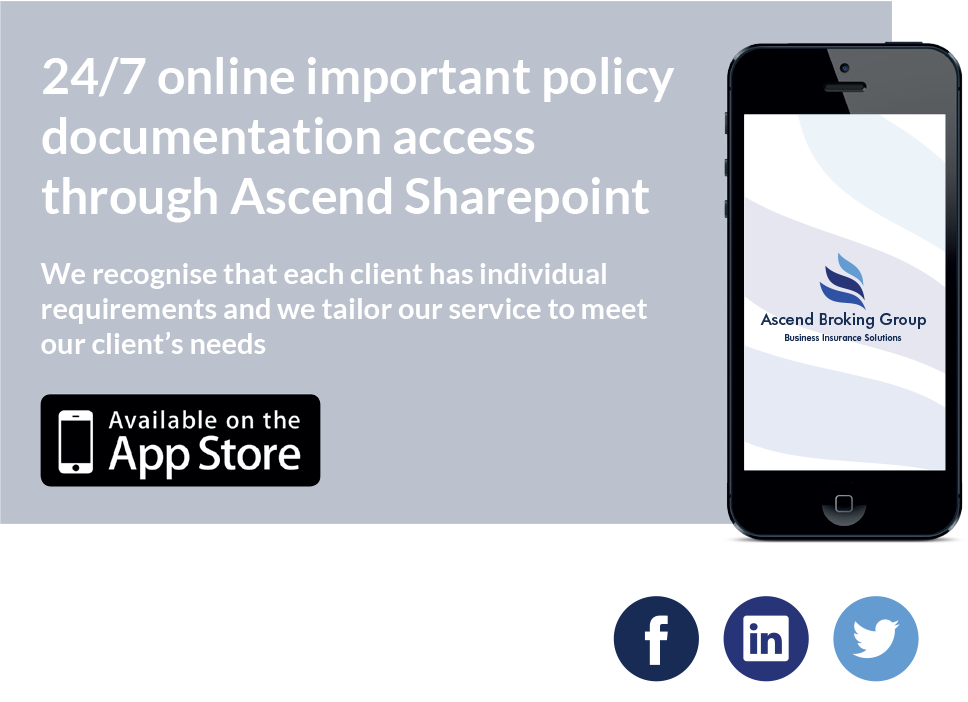 Certificates
  |   

Policy Documents  

|

  Claims  

|

  Accounts and much more
Ask for an independent review
Our Service:
Claims
Instant claims notifications
Cover
Always be able to access your actual cover
Technical Issues
Ask any technical questions anytime of day
Programme
Manage policy changes 365 days a year
Insurer(s)
All policy number and Insurer details 
Accounts
Access copy invoices & statements
Policy wordings
All policy wordings available
Sums Insured
Instant sums insured available
Contacts
Access all important contacts
Ascend 24/7 Sharepoint
Everything under one roof:
Individual Policies
Sums Insured
Vehicle Schedules
Policy Documents
Motor Certificates
Employers' Liability Certificates
To Whom It May Concern Letters
Policy Changes
Claims Notifications
Accounts
Important Contact Numbers
How to Guides
White Papers
Links to Ascend Social Media
And much more
Request a call back
If you have any questions or would like advice on a particular issue please contact us
or call us directly on 01245 449060