KYND
Cyber crime is the biggest threat to any business
KYND's powerful and easy-to-use technology is designed to help businesses of all sizes understand and prevent cyber risks.
Get an instant hacker's eye view of your organisation and quickly spot vulnerabilities so you can take action before the worst happens.
KYND helps to stop cyber risks affecting your business – quickly and simply.
The threat is real
46% of UK businesses reported some sort of cyberattack in 2019, with one-third of them experiencing cyber incidents at least once a week in 2020.
Cyber-attacks cost billions
Sadly that's right, it really does! In 2020, the total economic cost of cybercrime was reported to be an astonishing $798bn.
Small doesn't mean safe
The total cost of cybersecurity breaches and attacks to UK SMEs between 2018-2019 has reached nearly £30bn.
How does KYND help?
KYND helps to stop cyber risks affecting your business – quickly and simply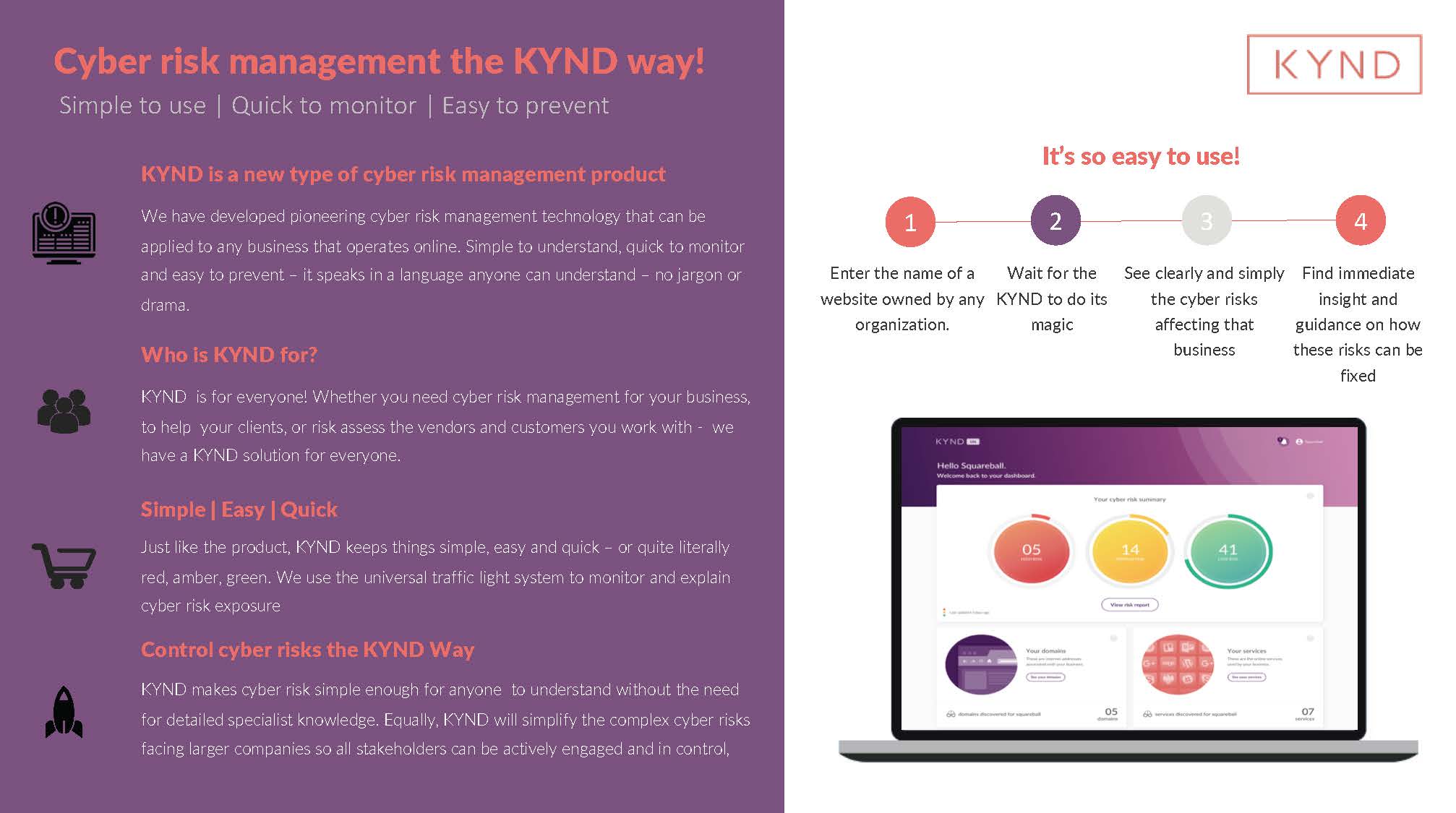 Check the security of your website and receive a detailed security report.
Understand the cyber risks your business face.
Receive a simple report highlighting your threats.
Recommendations relating to:
Ransomware

Financial threats

Business interruption

Highlighting which issues are the highest priority to fix

Placing risk perception in context alongside the other tags ("risk factors")

Recommending a way to target the most critical areas
It costs more than just money
It's not only financial loss – business disruption , reputational damage and data loss are indirect costs that could impact your business.
Uncover your business's vulnerabilities in 3 easy steps with KYND Start, a simple, standalone cyber risk report.
Delivered in minutes and written in a language you can understand, it provides insight into your organisation's cyber exposure coupled with a prioritised list of recommended actions to fix the issues identified.
Enter your website name and get instant results.
Easy-to-understand insights you don't need an IT degree to decipher.
For every cyber risk identified, we give you a jargon free rundown of how to deal with it
Request a call back
If you have any questions or would like advice on a particular issue please contact us
or call us directly on 01245 449060