Ascend Claims Reporting App
Saving Time – Saving Money
Managing Your Insurance Claims
Motor insurance claims can take 30 days to report a claim and subsequently defend meaning the traditional method is more costly for the insurer and can mean premium increases to you.
Our Ascend Claims App is an "evolutionary" app that motor insurance clients can use to accurately record and quickly submit claim data directly to our claims team and your transport manager. Saving time and money as well as protecting drivers livelihoods and company reputations.
All Ascend customers receive this additional service free
Immediate Claim Notification  
|

 GPS Positioning  

|

 Photographic Evidence  

|

 Digital Records 

|
90% time saving in reporting a claim
Specially created to help your fleet drivers
Created to help your fleet drivers quickly and accurately record information at the scene of an accident ad pass this claim data directly to you and your insurer
Drivers will download the app and add the company policy. When an accident/incident occurs, the driver will have the app on their mobile device ready to capture vital on-scene information and imagery that will then be sent directly to you and our Ascend claims team. Users of the app are already seeing the time between accident and reporting being cut by over 90%. The information provided is more accurate and complete allowing your claims to be better defended and your assets better protected.
The full system is ready to go on Android and iPhone devices – talk to us to find out more.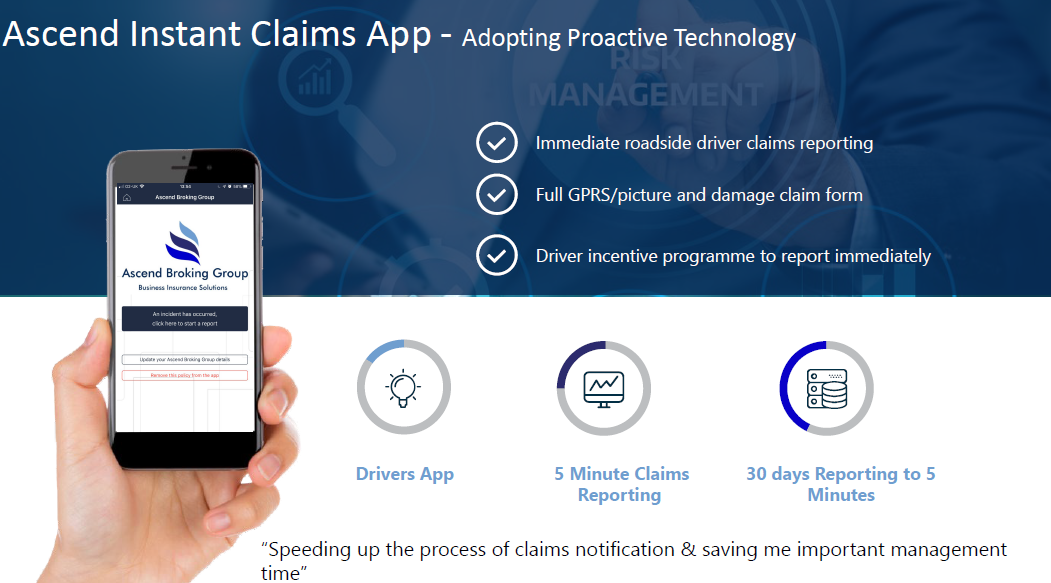 Cutting claims delays    |   Reducing claims cost    

|

   Improving outcomes   

|

   Reducing premium costs
Ask for an independent review
Our Service:
Claims
Instant claims notifications
Cover
Always be able to access your actual cover
Technical Issues
Ask any technical questions anytime of day
Programme
Manage policy changes 365 days a year
Insurer(s)
All policy number and Insurer details 
Accounts
Access copy invoices & statements
Policy wordings
All policy wordings available
Sums Insured
Instant sums insured available
Contacts
Access all important contacts
Ascend Claims App
Reducing claims reporting to under 5 minutes
GPS positioning
Digital claim form
Driver roadside notification
Prevent your business becoming a victim of fraud
More information from your drivers
30% claims cost reduction
Submitted claims are sent directly to fleet managers
Guides you through what to do after a motor accident
Faster reporting delivers savings
Request a call back
If you have any questions or would like advice on a particular issue please contact us
or call us directly on 01245 449060