24/7 access to important policy documentation via your specific client login or from your mobile phone
Groundbreaking technology that allows all our clients to access our back office system making day to day administration as simple as can be
All Ascend customers receive this additional service free
Certificates  
|

 Policy Documents  

|

 Claims  

|

 Accounts 

|

 Important Contacts

 |

 And More…

We will provide you with your own logon details and a simple userguide
Access your policy documents 24/7
Changing the way you manage your insurance programme
We like to do things a bit differently at Ascend and are delighted to advise of the launch of Ascend 24/7 an online client portal and app that allows all our customers to access our back office system.
Whether you are looking to change contact details, check sums insured, an out of hours vehicle adjustment or need a copy motor certificate urgently,  this is now all available via Ascend 24/7. Aimed at removing the bureaucracy and slow administration of insurance companies you will now be able to make changes to your policies 365 days a year.
But we are still available to offer you our personal face-to-face service, Ascend 24/7 will just give you more control when it suits you.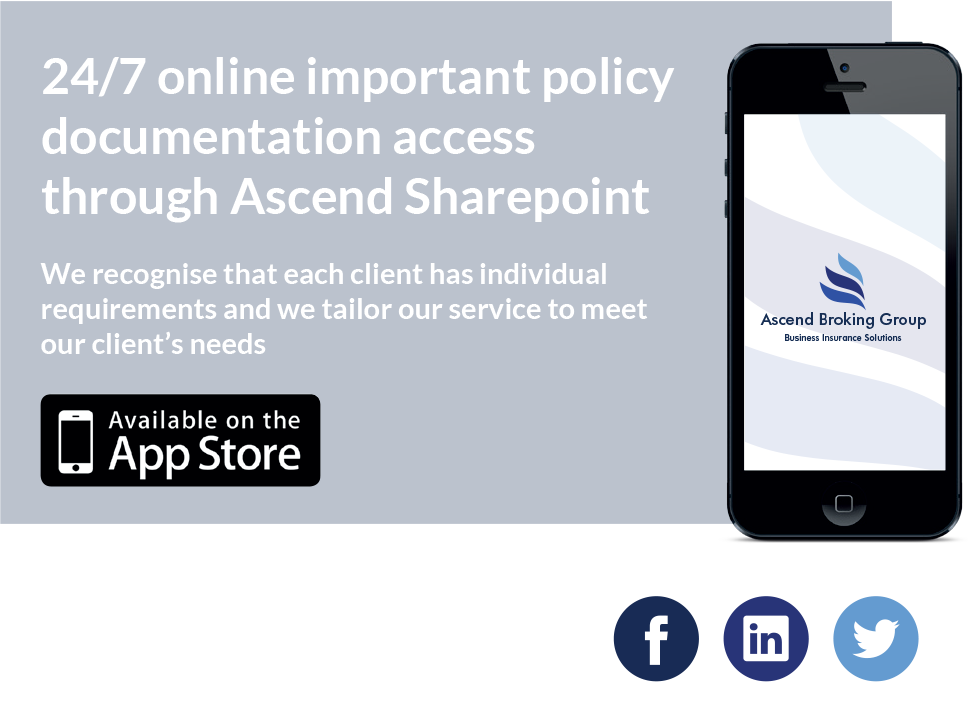 Certificates
  |   

Policy Documents  

|

  Claims  

|

  Accounts and much more
Ask for an independent review
Our Service:
Claims
Instant claims notifications
Cover
Always be able to access your actual cover
Technical Issues
Ask any technical questions anytime of day
Programme
Manage policy changes 365 days a year
Insurer(s)
All policy number and Insurer details 
Accounts
Access copy invoices & statements
Policy wordings
All policy wordings available
Sums Insured
Instant sums insured available
Contacts
Access all important contacts
Ascend 24/7 Sharepoint
Everything under one roof:
Individual Policies
Sums Insured
Vehicle Schedules
Policy Documents
Motor Certificates
Employers' Liability Certificates
To Whom It May Concern Letters
Policy Changes
Claims Notifications
Accounts
Important Contact Numbers
How to Guides
White Papers
Links to Ascend Social Media
And much more
Request a call back
If you have any questions or would like advice on a particular issue please contact us
or call us directly on 01245 449060